24' x 52 RESIN Above Ground Pool Package withFilter 30 Yr Salt Water Compatible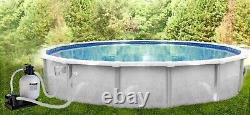 W/Full Print Newport Liner, Filter System & Skimmer. With 50+ years experience in the pool business.
We trust you will be satisfied 100%. Injection molded Toprails from Virgin Resin provide superior strength and durability. Column Uprights are injection molded for superior strength. Color coordinated with Toprail and Wall. Massive molded 2 Piece Wrap Around Top Cap sets are secured with stainless steel hardware.
Resin top curved wall rails encircle the top of the pool. Extra wide molded Bottom Joiners fully support the Uprights. Warning Notice molded into every Toprail. 52 High wall with superior exterior look. Wall extra protected with Hot Dipped Galvanized Copper Bearing Steel - G90.
Epoxy Coated on the inside for additional corrosion resistance. Easily assembled Wall Bar Connections reinforced with Aluminum Bars affixed to wall and joined with (33) Stainless 1/4-20×5/8 Bolts and Nylon Nuts. Pre-punched Thru the Wall Skimmer and Return Outlet openings for ease of installation. Hayward S166T 1 HP Sand Filter System.
The Pro Series filter features an integral side diffuser that evenly distributes unfiltered water over the sand media bed in a cascading, umbrella-like pattern. This allows the greatest filtration possible from every square inch of sand. The self-cleaning underdrain assembly, with its 360 degree slotted laterals, provides a fast, balanced flow of clear water back to the pool while allowing for more thorough backwashing.
Durable corrosion-proof filter tank molded of color-fast material for long-lasting, all-weather performance. 7-position Vari-Flo valve provides maximum flow at lower pressure drop. Large pressure sand/water drain for rapid winterizing or servicing. Flange clamp design allows 360 rotation for easy installation. Integral top diffuser ensures even distribution of water over the entire sand bed for maximum use of the filtration area.
Precision engineered umbrella-fold self cleaning laterals for balanced flow and backwashing, plus easy serviceability. System flow rate of 30 gallons per minute or 14,400 gallons in 8 hours.
Sand Required: 100 lbs (not included). Includes 6' power cord with standard 115V plug. Sand filter system includes : 16" filter tank, 7-way multiport valve, pressure gauge, 1-HP pump, filter base, (2) 1 1/2" x 6' filter hoses, (1) clear pump-to-filter hose, hose adapters and clamps. Drivers are not responsible for moving boxes to the desired location.
We try to answer all our questions as soon as possible.

---