Precut 24-Foot round White Pool Liner Pad for 24' above Ground Swimming Pools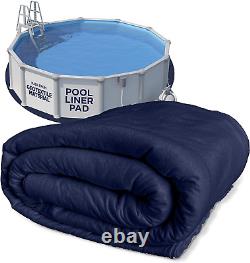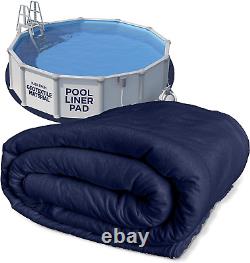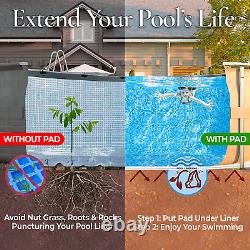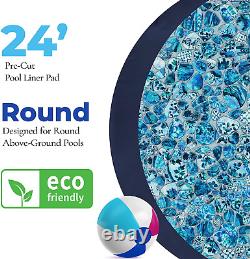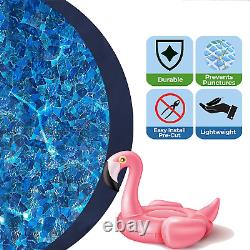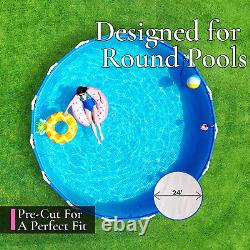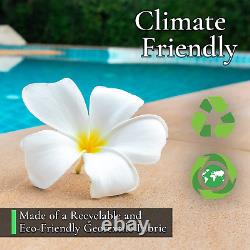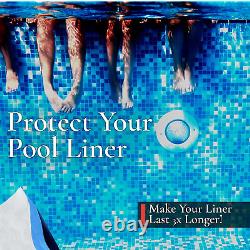 Precut 24-Foot round White Pool Liner Pad for 24' above Ground Swimming Pools - Puncture Prevention Extends Liner Life, Durable Eco-Friendly Geotextile Material. 24 FOOT PRECUT LINER PAD - Shop Square 24 Foot Round Pool Liners are designed to install easily. No need to measure, cut, tie, sew, & bind material, this pad is already cut for round swimming pools.
PREMIUM POOL PROTECTION - Our unique geotextile material is the best way to prevent nut grass, roots, rocks and other sharp objects from puncturing and damaging your pool's liner. DESIGNED TO LAST & ECO-FRIENDLY - The Liner Shield is made of recyclable materials that are designed to allow moisture, and not harmful items to pass through. MADE FOR ABOVE GROUND POOLS - Liner Pads are meant to eliminate water from corroding the metal components of above ground pools. To install, lay your sand barrier, install the liner pad and then build your pool above the liner. FIND YOUR FIT - There liners are custom cut to specific sizes, looking for a solution for a larger or smaller pool?
Search Shop Square Liner Pads for our full lineup. An essential part of the pool construction process, Shop Square Pool liner pads extend the life of your pool and prevent problems that are common in above-ground pools.
Made of a felt-like polypropylene geotextile material, above-ground pool liner pads prevent punctures to your vinyl liner by rocks, roots, grass, and more. Shop Square Above Ground Swimming Pool Liners come pre-cut for easy installation. Manufactured to fit the most pool sizes, you can find the right liner pad for your round pool. Made of durable geotextile material, the liner pad for swimming pools will prevent grass, roots, rocks, or other sharp objects from damaging your vinyl liner. Our liner is made with durable Geotextile, a material used by civil engineers before building embankments, roads, pipelines and coastal protective structures in order to strengthen, reinforce, cushion and waterproof.
It's what the pros use and it's way tougher than traditional foam padding. Lay a leveled sand or soil barrier and build the walls.
Install the foam cove (1) and deploy the liner pad (2) as flat as possible. Water the liner to better settlement and avoid wrinkles. Install the liner and enjoy your pool. The Shop Square Pool Liner Pad extends the life of your above-ground swimming pool: it prevents rips and punctures caused by nut grass, roots, rocks and other sharp objects; protects metal components from water corrosion and reduces convective heat loss. Conveniently, it also provides a soft floor pad for the comfort of swimmers. 25.59 x 18.58 x 11.93 inches. We reserve the right to cancel any order for any reason at any time.
We are not responsible for undeliverable addresses. Your feedback very important to us, after you get your package and you are. If you have any problem with your order / any questions please before leave any type of feedback.
Thank you for shopping at our store.

---